Welcome to Your Strongest Year in Business
We teach private sector coaches and gym owners how to build profitable training businesses.
There are over 500,000 personal trainers, strength coaches, and gym owners in the United States alone
The average coach and gym owner makes roughly $42,000/year. Not a career that is very sustainable.
To make matters worse, 20% of small businesses fail in their first year, 30% of small businesses fail in their second year, 50% of small businesses fail after five years in business, 70% of small business owners fail in their 10th year in business.
ONLY 3 out of every 10 of you reading this – will have a successful business in the next 10 years.
The odds are stacked against you. Thankfully, 99.99% of them aren't willing to go the extra mile to create the successful career that you came here looking for.
Imagine if you could have the perfect year.  A year where you really moved the needle and created real change.  Change that meant an increase in revenue, streamlined processes, improved customer retention, and made you the top facility in your area by far! 
This is what the Strongest Year Coaching Plan is all about. 
We will take you through a twelve-step program where every month you will create and implement one mission critical process into your business.  We will give you the plan, processes, examples and tools you need. All you have to do is tweak each process to fit your specific business needs and culture. 
At the end of the Strongest Year Coaching Plan you will have transformed your business from the inside out.  You will have created structure and scale that will free up time and allow you to focus on the projects and people you love to work with. 
Sounds too good to be true? It's not! 
It's a system that has taken Varsity House Gym from a tiny two car garage gym to a 20,000 Sq/Ft training mecca with multiple 7-Figure revenues.  
Now you can have this proven system for a fraction of the cost of some "high end" Mastermind or Private coaching program.  
For less than some people pay for their daily coffee routine you can have business freedom, freedom from making all the same mistakes we did.  We spent tens of thousands on coaching, masterminds, and consultants, not to mention all the money we wasted trying to figure it all out on our own.  
Now you don't have to.  
That's the Strongest Year Coaching Plan.  
You In?
What Does the Strongest Year Plan Entail?
We take a very data driven approach to improving your training business. Weekly accountability based on metrics and scorecards. We want to see you and your business win!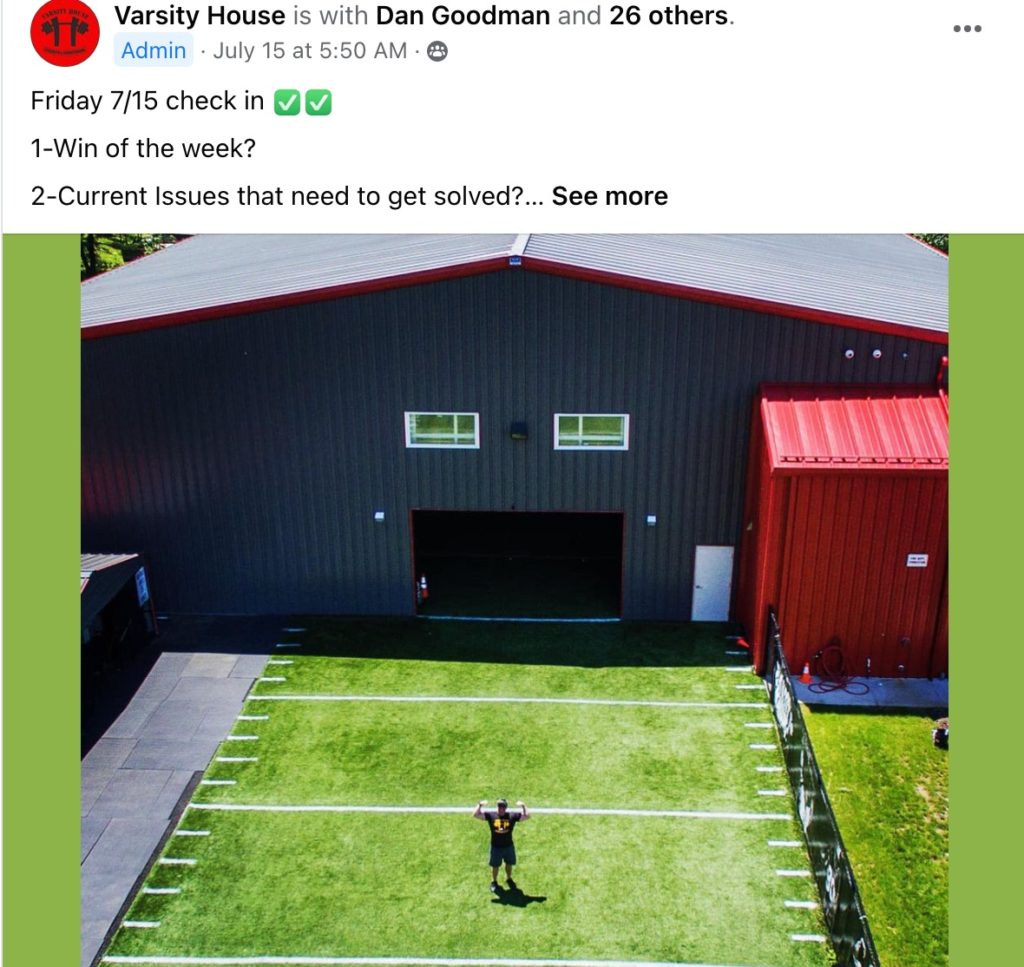 Weekly Team Meetings + Guest Presentations
Every Week we are hosting meetings, calls, and giving presentations based on real strategies that we are using to grow our business, Varsity House. You get access to every single call and presentation we give. This includes a bi weekly LIVE BOS presentation to our community group.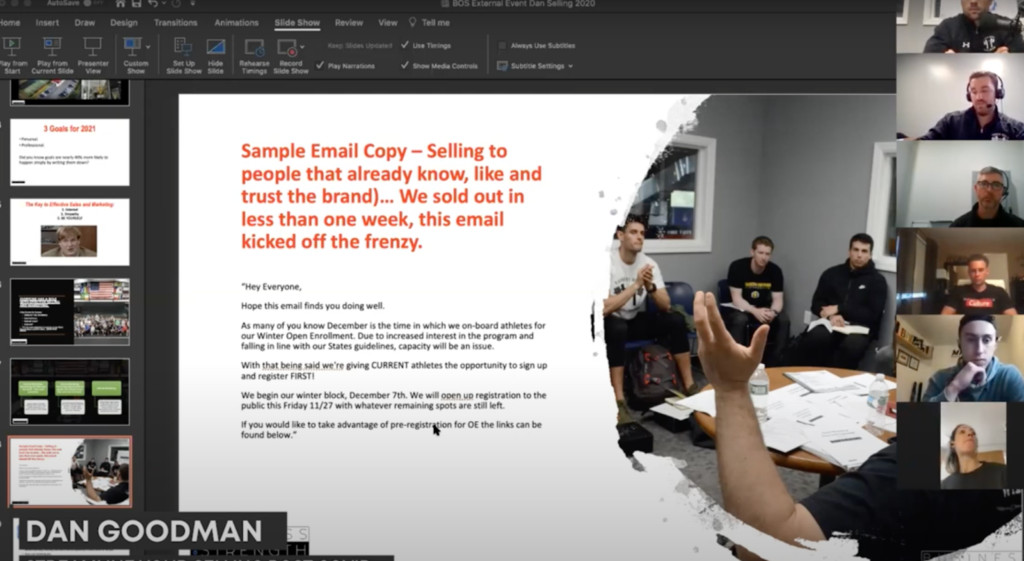 We have over 100+ team meetings, business, training, marketing, and coaching development self paced courses. Every BOS meeting is recorded, all resources that we are using in our business daily, and more!
Community of Like-Minded Coaches
In order to truly grow personally and grow your business you must surround yourself with like minded individuals who are hungry, humble and committed to excellence. The Business of Strength is a true community of coaches who have traveled from around the world to learn, develop and grow together
Why We Created the Business of Strength
The Business of Strength was created to take the guesswork out of running your gym. We wanted to give gym owners, coaches, and Strength Entrepreneurs™ the blueprint for success. 
This blueprint transformed Varsity House from a tiny two-car garage to a world-class training facility. The Business of Strength will help you structure your business processes, to create a clear vision for your ideal future.
When Varsity House was created in 2006 we had absolutely zero business experience. It didn't matter to us. Founder Joe Riggio had a master's degree in physiology and had never owned his own business. Dan Goodman, co-owner, was a division one football player who majored in communications
Our greatest asset? The desire to work hard and get better everyday.
We believed that if we put our best foot forward and got results with our clients – the business would take care of itself.
This notion couldn't be further from the truth.
In 2009 we upgraded to our second facility and hired our first two employees! Business was great. We created some serious buzz within our community because of the results our clients were getting. There were no signs, no front desk, no point of sale, or systems to keep the business in check.
We each wore many hats – our days were filled with putting out fires, taking care of client needs, training, and even cleaning our facility. We were working 7 days a week, spending less and less time with family,
We quickly realized, we did not own our gym, our gym owned us.
In 2011, we got help. We knew if we wanted to be recognized as one of the best gyms in the country we had to take control of our business and not let our business control us.
We created a step by step outline of every single process in our business. 
We created product development systems, employee development systems, sales, marketing, operations, and everything in between.
"If it's not written down it does not exist." We wrote everything down as if we were going to teach it to other people…little did we know.
By 2012 we were rolling. We began to implement all of our processes and systems. The results spoke for themselves.
By 2013 we were doing nearly $750,000 a year in revenue with eight total employees in a terrible non-visible warehouse space, with no windows, no fans, and a leaky roof.
Fast-forward to 2019 and Varsity House now resides in a custom designed 20,000 sq/ft training facility we call home.
The Complete Strongest Year Project Outline